PC Data Cable Testers
(电脑数据线测试仪)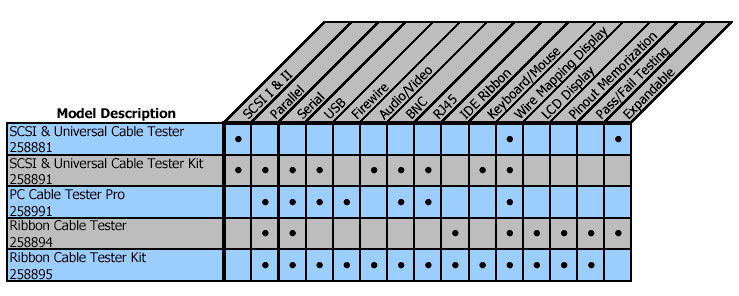 258881 SCSI & Universal Cable Tester


SCSI 线材与通用电脑线测试器

Are you tired of the headache of determining if your SCSI connection has a problem? How will you know if your expensive high density SCSI cable will work properly? The SCSI & Universal cable tester is the perfect solution. It can verify actual pin configuration of up to 68 wires by comparing one transmitting end to the other corresponding receiving end. Problems such as open wires, shorted wires and miswiring are made crystal clear with the wire-mapping display. Also, with the optional PC or MAC Cable Test Interface Unit, it can be expanded to test most PC or MAC Cables.
258991 PC Cable Tester
PC 个人电脑线测试器

The PC Cable Tester is a stand-alone test device designed to provide the user with a wire map of standard PC data cables (USB and 1394 Firewire available on Pro version). The unique LED display clearly determines wiring status by providing a point-to-point pin-out of the actual wiring configuration. Quickly and simply diagnose the existence of open wires, shorted wires, crossed wires and miswiring. It is an essential tool for cable dealers, cable assembly houses or system integrators to quickly troubleshoot PC data cables-where most data transmission problems occur.
258894 Ribbon Cable Tester
排线测试器

The Ribbon Cable Tester is designed to test the most commonly used flat IDE cables for wiring continuity, opens, shorts and miswiring. An intelligent CPU will memorize the correct wiring configuration for an IDE cable, thus enabling mass production cable assemblies to test one cable after another for pass or fail status. It is an excellent tester for system integrators to perform inexpensive tests on internal PC cables, or for cable assembly houses on a budget. The LCD wire-mapping display with a backlight provides unmistakable results.
258891/P PC Cable Tester Interface
PC 线材测试平台

This test interface unit is the perfect companion to the SCSI & Universal Cable Tester (258991) or the Ribbon Test (258895). When paired with either of these testers, this unit uses a wire-mapping display to determine the actual wiring configuration of all of the most commonly used PC data cables. You can even test continuity of CAT 5, Coax and USB cables!