Telecom Cable Testers
(电信专用测试仪)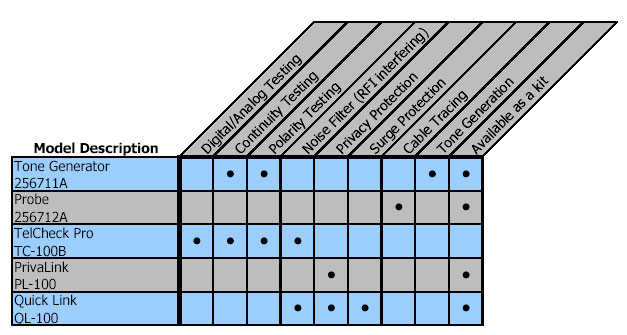 256711A Tone Generator
音频发射器及探测器组

The Tone Generator is a highly practical network installation and troubleshooting tool, which features a single or multi-tone signal, two test leads and a 4-conductor modular cable. The signal emitted by the Tone Generator can be easily traced by the Probe, even when cables are in a bundle or hidden in a mess of punch down blocks or wall plates. The Tone Generator & Probe can be used to verify cable continuity, identify wiring faults, determine line polarity and voltage in network (Cat 5 and Coax) and modular telephone lines.
256712A Probe
音频探测器

The Probe is equipped with a tone amplifier and an LED indicator that detects audible frequency tones for accurate tracing and identification of wires. Its plastic conductive tip prevents shorting of expensive telecom and network equipment.
TC-100B TelCheck Pro
电话插座测试器与杂讯过滤器

The TelCheck PRO is a must-have for the traveling PC notebook user. Whether at a customer site or in a hotel room, the TelCheck Pro will determine whether a telephone jack is on an analog or digital PBX system. This will prevent your expensive laptop computer from damage due to over-voltage on the line. Moreover, when connected to your modem, the TelCheck pro抯 RFI filter will cut out disruptive electromagnetic and radio frequencies梘iving you the cleanest connection available.
PL-100 PrivaLink
电话杂讯过滤器与防窃听器

Today virtually every home has several telephone sets sharing one line. Often times the line is also used for the Internet. Normally, family members must pick up the handset to hear whether the line is in use. At this point, the Internet connection or conversation has already been interrupted. The PrivaLink is an adapter, which can connect to every telephone outlet to prevent these annoying interruptions.
QL-100 Quick Link
QL-200 含有 PL-100 与 QL-100 的套装组

Surfing the Internet, e-mailing and faxing have become routine daily activities. Therefore, it is becoming more and more important for your telephone line connection to be fast, clear, protected and uninterrupted. Outside noise such as electromagnetic waves from various radio devices and instruments could decrease your modem/fax transmission speed and interrupt your Internet connection or telephone conversation. The QuickLink provides a sophisticated noise filter to improve your line connection. It is also equipped with a surge protector to protect your modem/fax/telephone from dangerous accidental power surges. In addition, it was also designed with a circuit that protects your connection from interruption by other telephone stations. With QuickLink, you can relax knowing that virtually nothing can come between you and the Information Superhighway.